Local Creative Youth Partnership (LCYP)
Laois and Offaly Local Creative Youth Partnership (LO LCYP)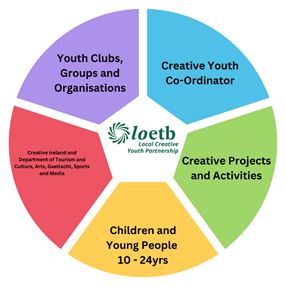 Creative Youth part of the Creative Ireland Plan aims to increase opportunities for children and young people to engage and participate more in creative activities. The Creative Youth Plan 2023-2027 intends to enable the creative potential of every child and young person aged 0-24 through a series of expanded and new initiatives that will be delivered between 2023 and 2027 Creative Youth - Creative Ireland Programme.
The role of Creative Youth is also to influence public policy around creativity in both formal education and out-of-school settings. To help create a place where knowledge and creativity are equal partners in the formation of our children and young people, giving them an opportunity to become creative, active citizens.
As part of the Creative Ireland Plan the establishment of Local Creative Youth Partnerships (LCYPs) came about and are housed in local Education and Training Boards (ETBs). Who are well positioned because they combine a wide range of human and infrastructural resources.