Adult Literacy Service
Literacy is a form of power. It offers opportunities in the world.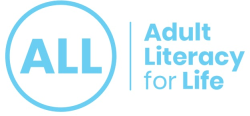 The Adult Literacy Service provides free and confidential group classes and one-to-one tuition for adults who wish to improve their reading, writing, spellings, maths or basic computer skills.
We provide classes for Speakers of other languages, driver theory and family learning.
The LOETB Adult Literacy Service provides support in the following areas:

English and Communication
We provide a range of reading, writing and spelling courses including:
One to one tuition
Small Group Literacy Classes
Book Club
Spelling and Grammar
Reading and Writing
Driver Theory and Literacy Support
Communications (QQI Level 3)
Leaving Certificate English

Everyday Numeracy/Maths
We provide basic part-time numeracy / maths courses
One to one tuition
Small Group Maths Classes
Games based Maths Class
Everyday Maths
Maths through Cookery, Horticulture, Woodwork and Electrical Skills
Maths (QQI Level 3)


Basic Computers / Digital Skills
We provide part-time basic computer courses
Absolute Beginner Computers – (Touch, Type, Read, Spell)
Beginners Computers
Computer Skills - Level 2
Using Technology – Level 2
Word Processing – Level 3
Excel (Spreadsheets) – Level 3
Internet and Email – Level 3
Desktop Publishing – Level 3
Digital Media – Level 3
Digital Photography – Level 3

Family Learning
We provide family learning courses
Cookery
Story Telling and Art for Children and Parents (Story-sacks)
Green Families
Horticulture
Start from the Heart – Trauma Informed Learning
Mindfulness and Relaxation Techniques

Workplace Basic Education / Return to education
We can provide courses in all literacy areas that can help with basic workplace education. Our level 3 return to education programmes provide a steppingstone to further studies. Courses offered include:
QQI Level 3 -Introduction to Childcare
QQI Level 3 -Employability Skills including Maths, Communications and Retail Skills
QQI Level 3 - General Learning including Personal Effectiveness, Personal and Interpersonal Skills, Career preparation, Planting and Potting, Plant Propagation, Art and Design, Pyrography, Craft, Sewing, Blowdrying, Basin Skills, Woodwork, Drawing, Bread, Pastry and Desserts, Nutrition and Healthy Eating, Health and Fitness.
QQI Level 3 – Science and Engineering, Electrical Skills, Maths, Electronics
The National Framework of Qualifications (NFQ) is used to describe qualifications in the Irish education and training system.


English for speakers of other languages (esol)
We provide English Classes to Speakers of Other Languages. Assessment is carried out prior to placement to ensure learners are placed in a suitable class. Levels offered include:
Absolute Beginners
Beginners
Elementary
Reading, Writing, Listening and Speaking (QQI Level 2)
Pre-Intermediate
ESOL (QQI Level 3)
Communications (QQI Level 3)
Contact LOETB Adult Literacy
Service

Laois Adult Literacy Service
Offaly Adult Literacy Service

Contact

Ann Shields
Marina O'Malley

Telephone

085 8760327
(057) 9349444

Email

ashields@loetb.ie
momalley@loetb.ie

Address

LOETB Information Hub,
Unit 1, Lyster Square, Portlaoise, Co. Laois.

Tullamore FET Centre,
Castle Buildings, Tara Street, Tullamore, Co. Offaly.
The Adult Literacy programme is co-funded by the Irish Government and the European Social Fund as part of the ESF Programme for Employability Inclusion and Learning 2014-2020.