Apprenticeships
Apprenticeship is the recognised means by which people are trained to become craftspeople or professionals in Ireland. It is a demand-driven, workplace and classroom, educational and training programme for employed people aimed at developing the skills of the apprentice to meet the needs of industry and the labour market. The curriculum for each apprenticeship programme is based on uniform, pre-specified standards which are agreed and determined by industry. Apprenticeships are currently available and are being developed across a wide range of industries and sectors.
Craft Apprenticeship
The apprenticeship system is generally, with some exceptions, a modular standards-based system generally comprising of seven alternating phases of on-the-job and off-the-job training and development. These alternating phases of training consist of three off-the-job and four on-the-job phases. The duration of the three off-the-job training phases does not normally exceed 40 weeks.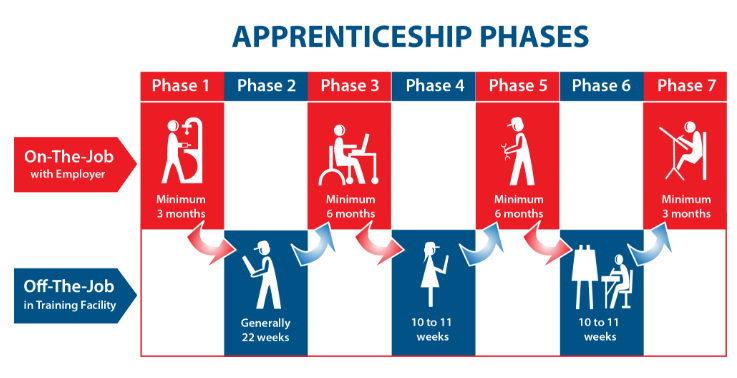 The entry requirements for the craft apprenticeships can be found here. On successful completion of an apprenticeship in a Craft Trade, a QQI Level 6 Advanced Certificate is awarded.
Post 2016 Apprenticeships
There are now a range of new apprenticeships since 2016, with several more due to come on stream in 2018 and beyond to 2020. These new style apprenticeships can lead to an award ranging between Level 5 and Level 10 on the National Framework of Qualifications. The new apprenticeships vary in duration from two to four years and the off-the-job training can be delivered in a variety of methods including block release, one or two days per week and/or online training delivery. Each new apprenticeship has its own entry requirements which can be found here.
Apprenticeships currently available include those in Construction, Electrical, Engineering, Finance, Hospitality and Motor. For further information on any of these individual apprenticeships click on the relevant links below.
David Connolly, Metal Fabricator Apprentice, Romaquip, Birr, Co. Offaly

"The best advantage about an apprenticeship is that you earn while you learn. From the very beginning of my apprenticeship I was gaining valuable experience in the workplace. I also really enjoyed attending college which covered a wide range of practical skills and theory around the trade of metal fabrication.
James Norris, Industrial Electrical Engineer Apprentice (Level 7), Alpha Drives Ltd, Portlaoise, Co. Laois

"I qualified as an electrician in 2010 and am currently completing the two year Industrial Electrical Engineering (Apprenticeship), Bachelor of Engineering Degree (Level 7). I have a qualified engineer as a mentor and I gain more engineering experience through his guidance. I also attend Limerick Institute of Technology (LIT) and have the opportunity to bring my theory into practice in the company which is a great advantage"
Ailbhe Lacey, Female Apprentice Plumber, Clean Heat Services Ltd, Stradbally, Co. Laois

"I'm getting to work on practical jobs, doing tasks that I know will benefit me in my career in the long run. I love learning on the job and I'm so delighted that I got into an apprenticeship and am really enjoying it. I'd strongly encourage other people to do an apprenticeship".
David Egan, Refrigeration & Air Conditioning Apprentice, Buggy Refrigeration, Tullamore, Co. Offaly

"I am currently in phase 3 of a Refrigeration & Air Conditioning apprenticeship. There's great variety in the apprenticeship and you get to meet lots of people from different businesses. You also learn a lot in college and when you return to the workplace you can put the theory into practice. I couldn't see myself doing anything other than this apprenticeship and I'm really glad I got this opportunity."
For further information go to www.apprenticeship.ie or contact one of our Senior Training Advisors
Contact

Sandra Doyle

Mary Leech

Caroline Spollen

Address

LOETB Administrative Offices,
Castle Buildings, Tara Street,
Tullamore, Co. Offaly, R35 E9K8

Telephone

(057) 8671545
(085) 8598413

(057) 8671305
(087) 1464092

(057) 8671544

(085) 2541789

email address

sdoyle@loetb.ie
mleech@loetb.ie
cspollen@loetb.ie