Skills Training Courses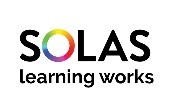 The following online Skills Training courses are available, click on the links for more information.
Remote working is now!
The potential business benefits of Remote Working have been acknowledged for some time – enhancing the ability to attract and retain top talent, contributing to a more contented and productive team, and lowering the cost base. Remote working can contribute to regional development through sustainable rural communities, while also addressing inclusion and diversity in workforces by removing some barriers to work. It also offers companies and employees the opportunity to focus on output rather than attendance, while building resilience and business continuity.
In response to both the current COVID 19 pandemic and the future remote working opportunity, LOETB, in collaboration with IDA Ireland, SOLAS and Grow Remote, have created two new online national training programmes that develop the capability and capacity of those wishing to become Remote Workers, current Remote Workers and Line Managers nationally.
'Leading Remote Work Teams' is aimed at Line Managers leading a team that includes remote workers. Note the managers time commitment to the programme will represent the entire company contribution to programme costs.
'Remote Work Ready' is aimed at employees and unemployed people hoping to transition to a remote working role and is fully funded.
Click here for more information
Both programmes are 100% online, available nationally and are 7 weeks duration. The programmes start Tuesday, 5th May, 2020.
For further information, please contact:
Remote Work Ready
For further information, please contact: